Editing/variation or use of my music, videos and photos with artificial intelligence (AI) is categorically prohibited.
Calendar settings 2014
© all photos by Mike Scholz, www.mikes-media.com. All rights reserved.
You are allowed to copy, share and forward my calendar setting-copies 2014 unlimited. But you mustn´t remove my name, my websiteadress and the copyright from the files or prints. Selling and sharing the files or prints is strictly prohibited.
Terms of use for scores and music
© All music composed & arranged by Mike Scholz. All rights reserved.

The listed works in my website are licensed under a
Creative Commons Attribution-NonCommercial-NoDerivs 4.0 Unported License.
You may print, copy, publish or share this music-scores or transmit them unlimited to a third party under the conditions of CC above.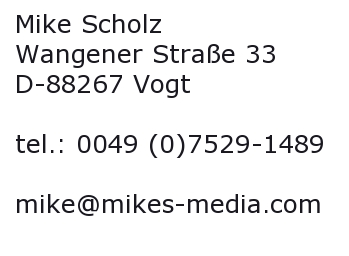 Send a message, your request or an e-mail in case of commercial interest.
Performing Licence
By purchasing of one of my compositions/arrangements you as the performing ensemble/group/band/orchestra will get the right:
to copy the full scores including the single instrumentsheets for your archive, your rehersal and the performances. This right is limited to you as the single performing and licenced ensemble.

to perform my composition/arrangement unlimited, although you must send the setlist with my name, the name of the composition/arrangement and the ISWC-number to GEMA.


to make sound- and viedoerecordings of the life-performances of my compositions. You are allowed to record the composition in a studio. You, as the performing ensemble, are allowed to publish these records as demorecordings. In this case you have to indicate my name as composer/arranger in an appropriate and visible way.

you mustn´t transfer copied files or copied sheets of my music to a third party, sell them or use them in any commercial way.
You must not
publish my music without a valid licence

use any kind of recordings of my music for any commercial purposes

use the performance oder recordings of my compositions in connection with any pornographic, illegal, racist or violence glorifying contents and respectively not use them in connetion with extreme political or religious opinions.
Licence for Film music /Soundtracks
A licence for film music or soundtracks depends on the kind of film- or videoproject my music is intended to be embedded. Therefore different or special licence-conditions should be negociated about. Please contact me via e-mail (Contactpage) or send a request to my postal address.